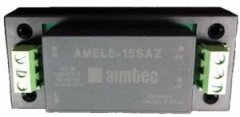 New from Aimtec!
For those of your customers that cannot use PCB mount models , Aimtec is now offering screw-terminal options like the one shown below for most of our 5 Watt up to 40 Watt AC-DC series.
These mount-plated options are denoted by the "-ST" suffix at the end of the part number.
The same screw-terminal option is also offered for some of our DC-DC wide input voltage range 100VD ~ 1500VDC - AMxW-NZ series.