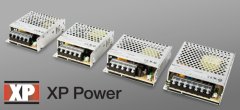 New series AC-DC power supplies - LCS35-50-75-100
04.02.2021
The LCS series of convection cooled, fully enclosed, AC-DC power supplies are designed to provide an extremely competitive low-cost solution for industrial electronics and technology applications. Features include output voltage adjustment, a power 'ON' LED, low stand-by power consumption, overload, overvoltage and short circuit protection. Applications include auxiliary power sources, security installations, lighting control, smart home or office control systems, ticketing and vending applications.
The 35W LCS35 has a choice of four regulated DC outputs: 5V; 12V; 15V; 24V, the LCS50/75/100 each have a choice of six DC outputs: 5V; 12V; 15V; 24V; 36V; 48V, the output voltage is adjustable ±10% for all models via an on-board potentiometer (within the output power rating), there is no minimum load requirement and when operated with no load, the input power is less than 0.3W.
All models have an input range of 85 to 264VAC, with derating below 100VAC, there is a surge withstand of 300VAC for a maximum 5s, the LCS series is also designed to meet EN61558 category III for overvoltage when directly connected to the supply. The input to output isolation is 4kVAC, input to ground 2kVAC and output to ground 1.25kVAC. Alternatively, operation from a fused DC source 120 to 373VDC is possible (not included in safety approvals).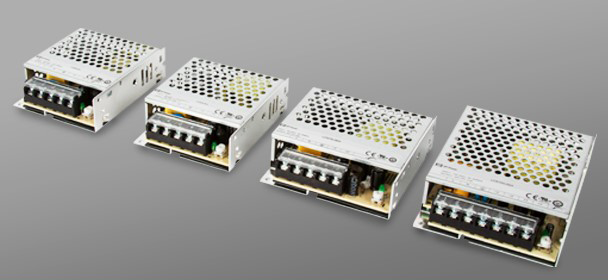 All models feature overvoltage, overload & short circuit protection and input protection is provided by an internal fuse (AC operation). EMC standards include: EN55032 Class B for conducted and radiated emissions and EN61000-3-2 for harmonic current; Safety approvals include UL/EN62368-1 for ITE and CE LVD. The operating temperature range is -30°C to +70°C, see datasheets for temperature derating graphs, the operating altitude is 5000m and the MTBF is >300,000 hrs. (MIL-HDBK-217F, +25°C GB).
The case consists of an aluminum chassis with vented galvanized steel cover. Both the LCS35 & LCS50 measure 3.89" x 3.23" x 1.18" (99.0 x 82.0 x 30.0 mm), weight: 180g; the LCS75 measure 3.89" x 3.82" x 1.18" (99.0 x 97.0 x 30.0 mm), weight: 220g, and the LCS100 measures 5.08" x 3.82" x 1.18" (129.0 x 97.0 x 30.0 mm), weight: 305g (5V model = 350g). As standard the connector terminals are protected by an insulated cover, not found on many low cost competitor units in the market. An acrylic resin conformal coating is available as an option, specified by adding suffix -E to the model number (MOQ applies).
Low cost
35/50/75/100W convection cooled
Industrial & ITE approvals
Integrated connector terminals cover
Class B conducted & radiated emissions
Input voltage 85 to 264VAC or 120 to 373VDC
Input surge withstand 300VAC for 5s
Overvoltage category III
Output voltages from 5 to 24VDC (LCS35)
Output voltages from 5 to 48VDC (LCS50/75/100)
Output voltage adjust ±10%
High efficiency, up to 88%
Short circuit, overvoltage & overload protection
Power 'ON' LED indicator
Conformal coating option
-30°C to +70°C operating temperature