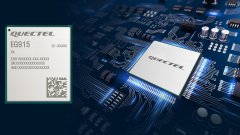 EG915 - a new series of cost-effective LTE Cat.1 modules from Quectel
12.12.2022
To meet the growing demand for LTE Cat.1 communication solutions for IoT applications, Quectel adds Unisoc and ASR chipset-based modules to its portfolio. They are fully compatible with the well-known Qualcomm-based EG91 series, but are oriented towards price-sensitive applications. The EG915 series offers a choice of different functions that can be selected depending on the needs of the specific application:
LTE B28 New LTE frequency range 700MHz used in several European operators to achieve large coverage of outdoor areas and very good penetration in buildings.
Bluetooth BTLE function for local connection with wireless sensors.
Wi-Fi Scan offers the possibility of geographic positioning by scanning the surrounding Wi-Fi networks and comparing them in a database. Positioning accuracy is typically below 100m.
GNSS function for geographic positioning using GPS/GLONASS/Galileo/BDS/SBAS/QZSS satellite navigation systems.
The full list of variants in the EG915 series:
Description
Ordering Code
Chipset
Product Line
Band Info
VoLTE
WiFi Scan
BT
GNSS
EG915U-EU
w BT, w B28
EG915UEUAB-N05-SNNSA
Unisoc
LTE Cat.1
GPRS
LTE-FDD: B1/B3/B5/B7/B8/B20/B28
Y
Y
Y
N
GSM: B2/B3/B5/B8
EG915U-EU
w/o BT, w B28
EG915UEUAC-N05-SNNSA
Unisoc
LTE Cat.1
GPRS
LTE-FDD: B1/B3/B5/B7/B8/B20/B28
Y
N
N
N
GSM: B2/B3/B5/B8
EG915U-EC
w BT, w/o B28
EG915UECAB-N05-SNNSA
Unisoc
LTE Cat.1
GPRS
LTE-FDD: B1/B3/B5/B7/B8/B20
Y
Y
Y
N
GSM: B2/B3/B5/B8
EG915U-EC
w/o BT, w/o B28
EG915UECAC-N05-SNNSA
Unisoc
LTE Cat.1
GPRS
LTE-FDD: B1/B3/B5/B7/B8/B20
Y
N
N
N
GSM: B2/B3/B5/B8
EG915N-EU
w GNSS
EG915NEUAG-N06-SGNSA
ASR
LTE Cat.1
GPRS
LTE-FDD: B1/B3/B7/B8/B20
Y
N
N
Y
GSM: B3/B8
EG915N-EU
w/o GNSS
EG915NEUAC-N06-SNNSA
ASR
LTE Cat.1
GPRS
LTE-FDD: B1/B3/B7/B8/B20
Y
N
N
N
GSM: B3/B8
For more information and documentation, send an inquiry to [email protected]